OneUnited Bank is proud to be Black.
Since starting up nearly 50 years ago OneUnited Bank has had a relentless focus on better serving the banking needs of the Black community and improving the lives of everyday people in the communities they call home.
With a mission to be Black America's first choice for banking, OneUnited is today the largest Black owned bank in the country and the nation's first Black digital Bank.
Underpinning the Bank's growth and success has been its commitment to create a strong of sense community and belonging across its customer base and to be there for its customers in the channels, and on the devices where they live their lives.
"As a digital first bank our focus has been always on providing solutions that enable our customers to bank online, and on their mobiles, with simplicity and ease.  With our mobile banking strategy, we aim to provide the whole banking experience in the palm of our customers' hand" explains James Slocum, Chief Information Officer, SVP, OneUnited Bank.
"Today that vision has been realized.  With our highly-rated mobile app customers can safely do anything they need – from depositing checks, to transferring money and paying bills – when it's most convenient for them."
"But for us we still want to go further, it's about more than just providing online banking products and services.  We want to build our community in the digital world that our customers live in and provide them with a sense of belonging and personalized attention."
"Core to being able to do this was our investment in Pulsate, a  mobile first marketing communications platform that allows us to engage with our customers, in a very personalized way, directly on their phones and within our mobile app" explains James.
Pulsate is embedded in OneUnited's mobile strategy.  Here's a taste of how they use it and the value it brings both to the Bank and the customers it serves.

BankBlack Early Pay Program – Driving financial freedom one pay check at a time
OneUnited Bank has long been committed to getting people's pay checks in their hands as quickly and easily as possible so as they can access the money they have earned as soon as they have earned it.
The BankBlack Early Pay program enables customers to receive their pay checks into their accounts up to two days early and simply get their money faster.
"For many of our customers, getting paid up to two days early is a real winner – it can help avoid falling into the payday loan trap with unreasonable interest rates or fees.  Equally, it can help eliminate missing bill payments that might impact credit ratings or scores.  We introduced this service to help our customers in the times they might be struggling to get from one pay check to the next" explains James.
"And it's been a great success.  However, one challenge we encountered was finding a smart way of making sure people knew their money was in the bank in real time.  With Pulsate we are able to do this, quickly, simply, and easily.
The solution enables us to identify our customers who have signed up for our BankBlack Early Pay program and then push real-time, personalized notifications directly to their cell phones letting them know exactly when their money is there and how much they have been paid  – they don't have to do anything – everything they need to know is delivered directly to their phone right at the time it happens" comments James.
"And customers love it – not only does it take the stress out of waiting and worrying for your pay check to process – it has a real 'good feel' factor as well – knowing your money is in the bank and ready to spend makes everyone happy" remarks James.
Without Pulsate enabling us to deliver personalized messages directly to our customers, our BankBlack Early Pay program would simply not be as effective.  It enables us to get the information our customers need to know, exactly when they need to know it, through the device they want to know it on" concludes James.
OneUnited Bank Rewards Program – Building a community one advocate at a time
OneUnited Bank is strong, bold and unapologetically Black.  It makes no bones about the fact that it wants to build a strong community of customers who are equally proud and advocates for all that the Bank stands for.
"For us it's important that our customers see us as more than just another provider of banking products and services.  We want them to feel part of the #BankBlack Movement and to be proud of what that stands for. Part of the movement is showing solidarity to help close the wealth gap for minorities that exists today and provide everyone with an opportunity to achieve the basic foundation for financial security" explains James. 
To achieve this OneUnited Bank has invested in a strong advocacy program, encouraging and rewarding its customers for being part of the #BankBlack Movement.
Pulsate allows the bank to keep its finger on the pulse of the advocacy actions of its customers and make sure they are rewarded and encouraged for the same.
"With Pulsate we are able to take a very personalized approach to reward our customers for their commitment and loyalty to our Bank and our mission.   We can see who has done what – whether that be simply sign up to become an advocate, refer family or friends, or take part in our financial literacy programs – and we can push mobile messages directly to them thanking, encouraging, and rewarding them with cash-back rewards, points, or special gifts for what they have done" comments James.
"This goes a long way to creating a strong sense of engagement and community with our customers. We can reward them in real time for the actions they take and communicate this to them directly on their phone or as personal messages in our mobile app so as they know we are there with them, recognizing what they have done and making them feel proud of their contribution to the #BankBlack Movement" concludes James.
Providing Personalized Service in a Digital World – Supporting customers one step at a time
OneUnited Bank has definitely led the market as one of the nation's first digital and mobile banks.  Today, all of the Bank's products and services are available to its customers – from inquiry to activation – through its mobile app.
Using Pulsate OneUnited is able to walk side by side with its customers as they sign up for products and services, guiding them through that journey with the same level of personalized attention as they would get in a branch.
"Over the years our investment in technology has allowed us to provide our banking services to customers anytime and anywhere they are through our mobile app. They can do their banking business on the device that they use all day, every day" explains James.
"Using Pulsate we are able to take things one step further.  We can identify customers who have signed up for a new service or product but not completed the process – for example signed up for a card but have not activated it.  We can use Pulsate to reach out to them directly, either through a push notification to their phone or a direct message in their mobile app, and provide them with help and guidance as to what to do next to complete the process.
They get the precise information and help they need, based on the product or service they are interested in, matched exactly to the stage they are at – all delivered in the channel they are using – their phone" comments James.
"Pulsate allows us to deliver a very proactive and personalized level of service to our customers in the mobile world – we can be there with them to meet their needs when and where they need us" concludes James.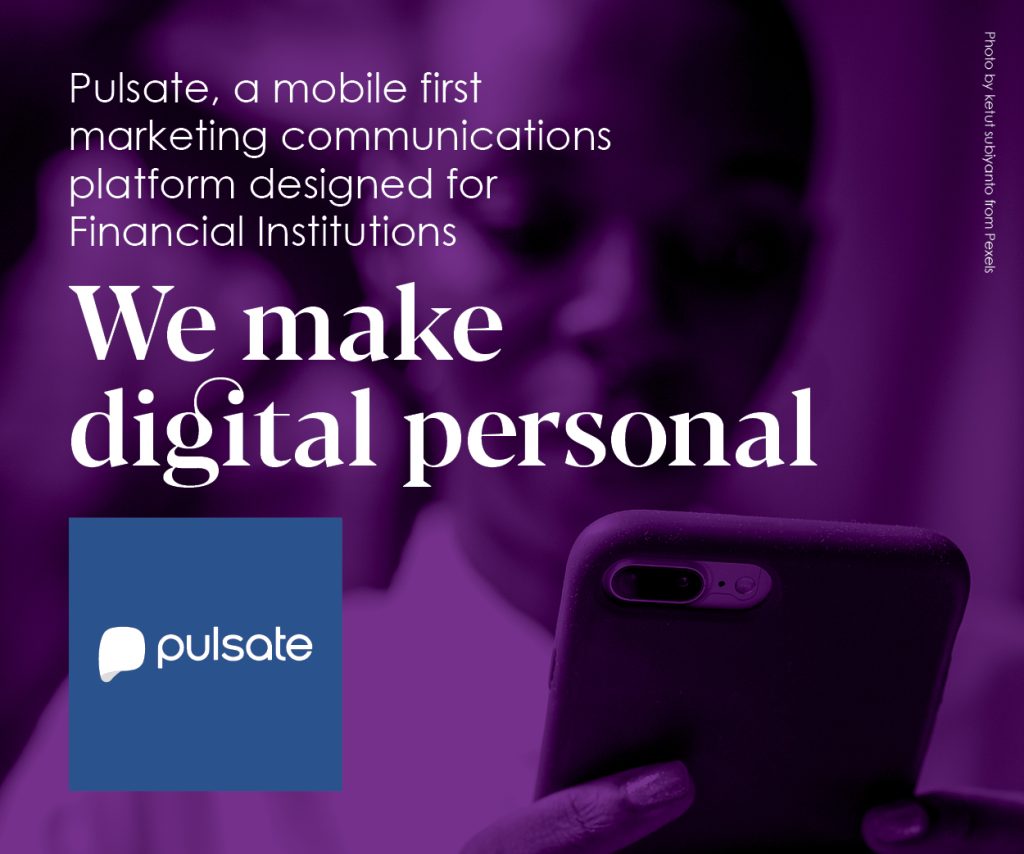 In closing
OneUnited bank is no stranger to the world of digital and mobile banking – it's in the Bank's DNA as the nation's first Black digital bank.  And as the world of banking world continues to evolve, from branch to online to mobile, OneUnited continues to keep one step ahead of the curve moving not just its product and services to mobile delivery but shifting its communications, customer engagement and education to a mobile first marketing strategy.
"Our investment in Pulsate was a logical step. We have always focused on leveraging the channels our customers were using as a means of engaging , helping, and supporting them. Today, that channel is predominately mobile and it continues to grow.  Pulsate is the cornerstone for how we engage with our customers in their mobile world – its proving to be good for us, and more importantly loved by them" explains James.